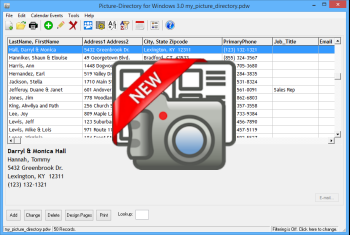 Picture-Directory for Windows 3.0™
Picture-Directory for Windows™ is Pictorial Directory Software and It:
Is designed to create printable membership directories with or without pictures.
Is Address Book Software.
Is a PIM or Personal Information Manager Program.
Runs on Microsoft Windows® 95,98, Me, NT 4.0, 2000, XP, Vista, Windows 7, and Windows 8.
Is useful for a business, church, club, or any organization that needs a contact information directory
Can be synchronized with Picture-Directory Online™
Is simple and straightforward to use
It provides fields for: First and Last Name, Children, Address Lines 1 and 2, City, State, Zipcode, Numerous Telephone Numbers, Numerous Email Addresses, Freeform Notes, Calendar Event fields for Birthdays, Anniversaries etc., And User Defined fields as well
Is Compatible with .bmp, .jpg, or .gif image formats
Includes several creative and well designed print formats
Includes Page Designer™ to Create your Own Print Formats for an Infinite number of Print Formats both with or without pictures
$59.95 one time charge. $16.95 annual license fee.
Picture-Directory for Windows™ replaces GEFC Directory™ 2.2 with provides an Improved Look and Feel, Custom Fields, Directory Display Sort and Filter Options, Improved Help, More Intuitive Workflow, Import directly from and Excel Spreadsheet and many other enhancements.